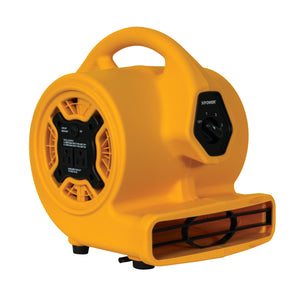 P-130A Compact Air Mover
Ventilate and dry like a Pro at a fraction of the cost! The XPOWER P-130A compact air mover blasts up to 800 CFM with its efficient 1/5 HP motor. Drawing only 2 Amps at its highest speed, this multipurpose air mover is a must have addition to your home or garage.
Manufactured with rugged state-of-the-art injection mold technology, this air mover is ideal for drying tight spaces such as crawl spaces, under counters, inside cabinets, bathrooms, auto interiors, and more. The P-130A compact air mover features a three speed switch for full control over airflow and a set of on board power outlets that allow you to link multiple units together. Designed for easy storage and portability, the P-130A's stackable design features convenient wraparound cord storage and weighs less than 10 pounds.
The P-130A, like XPOWER's larger air movers, enjoys precision engineered technology built for optimum performance and years of service.
Powerful and energy efficient 1/5 HP induction motor
Low 2.0 Amp draw with 800 CFM maximum airflow capacity
3 speeds with 4-angle drying positions (0°,20°kickstand,45°&90°)
10 ft. power cord with wrap-around cord design
Built-in power outlets for daisy chain with dual thermal protection
Stackable up to 4 units high for easy storage
Lightweight, compact and durable polypropylene (PP) plastic housing design
ETL/CETL safety certified