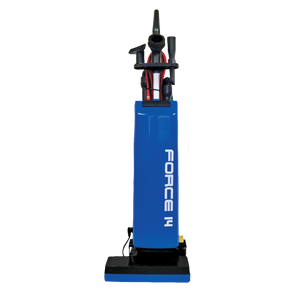 FORCE 14 Upright Vacuum
The Sandia FORCE 14 upright vacuum is a true leader in the field. It has a modular design and construction making it the easiest and quickest upright vacuum to maintain. The FORCE 14 has a powerful 12 amp motor.  As a result, it produces an actual 74.8 inches of vacuum lift allowing for better cleaning with as little as one pass. The dust protected motor also has an in-line filter. This gives both the motor and the filter a reliable long life. The FORCE 14 has a separate 1.3 amp motor that spins the roller brush bar at 4000 RMP's. This comes with overload protection and a non-slip drive belt.  The high-efficiency filtration collects the finest dust in a 4.75 quart dual-wall micro-filtration bag.
Specifications
Model No: 60-1000
Motor: 12 amp, 1000 Watt
Cleaning Path: 14-Inch
Carpet Height Ajd: 4-Position
On-Board Tools: Yes
Furniture: Yes
Filtration System: Standard (HEPA Available)
Cord Length: (1) 50-Foot Safety Power Cord
Sound: 78 dBA
Brush Speed: 4000 RPM
UL Approved: Yes (Commercial Use)
OSHA Compliant: Yes
Weight: 19.8 lbs.

How to operate
When the vacuum handle is in the upright position at startup or when vacuum tools are being used, the roller brush motor automatically turns off to protect the carpet. The balanced center of the gravity gives the Force 14 a light handle weight and prevents tipping when using accessories.
The telescopic wand with stretch hose extends up to 9-feet for easy cleaning of high, low and tight spaces. Manual, 4-position carpet height adjustment.
The polished stainless steel glide plate lets the Force 14 upright vacuum ride gently on the carpet. Non-marking rear wheels make transport easy. Includes (1) 50-foot interchangeable safety power cord with strain relief.
Each part of the Sandia Force 14 upright vacuum can be purchased separately and interchanged. This makes warranty and ongoing maintenance simple and quick. You no longer have to send it to the shop for repairs or have special tools.