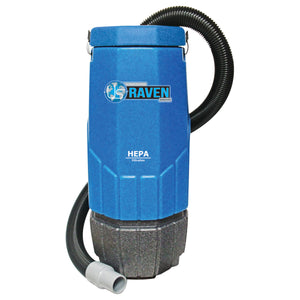 HEPA RAVEN 10QT Backpack Vacuum
Designed for vacuuming carpet, hard floors and upholstery, the Sandia HEPA RAVEN Backpack Vacuum is worn on the back to allow for easy and quick vacuuming while walking. Includes HEPA filtration, including HEPA bag and HEPA motor filter. This backpack vacuum is designed for cleaning sensitive areas that require the highest filtration. Fastest soil pick-up with high CFM airflow, making the HEPA RAVEN Backpack Vacuum significantly more proficient than traditional uprights. Collects the most soils, leaving exhaust air cleaner with a disposable, heavy-duty paper micro-bag mounted inside a washable cloth shakeout bag.
Lightweight ergonomic design, with a cushioned back-pad that fits the curve of any operator's back. The comfortable shoulder and waist belt design reduces fatigue, making work easier. 2 Lever-style latches lock the lid to the body and a static-dissipating vacuum hose securely threads into the backpack's lid, allowing for right- and left-handed vacuuming. The interchangeable lid converts the Raven into a powerful blower. Easy-to-reach On/Off power switch, quiet motor and 50-foot long safety power cord. 5-piece tool kit included on select models.
| | |
| --- | --- |
| Models: | 20-3000 HEPA Raven 10-Quart Backpack |
| | 20-3001 HEPA Raven 10-Quart Backpack with 5 pc. Standard Tool Kit |
| | 20-3002 HEPA Raven 10-Quart Backpack with Power Head Accessory |
| | 20-3003 HEPA Raven 10-Quart Backpack with Power Head Accessory and Standard Tool Kit |

Warranty:
Lifetime warranty on body, 5-years on motor and all electrical components, 90-days on tools and accessories.


Capacity:
10-Quarts
Airflow:
150 CFM
Power:
1340 Watts
Motor:
1.5 HP, 1-Stage
dB:
67
Amps:
11.5
Volts:
115 V
Static/Lift:
95
Height:
23"
Weight:
10.5 lbs.