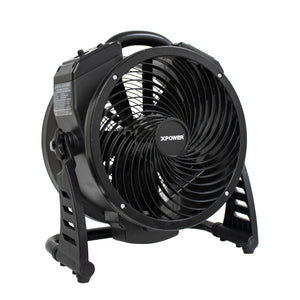 M-25 Axial Air Mover with Ozone Generator
The XPOWER M-25 Axial Air Mover features a 5000mg/hour ozone generator and a brushless DC motor for ultimate energy efficiency and powerful extended airflow with penetrating ozone coverage. The M-25 is perfect for sanitizing and deodorizing medium to large areas such as hotel suites, homes, offices, basements, and more. It will eliminate even the most severe odors caused by mold, mildew, tobacco, fire and smoke, water and flood damage, animals, and more.
XPOWER's air movement technology leads the industry in features. Our in-house designed and manufactured brushless DC motors develops large amounts of torque to propel the air speed and volume you need for whole room circulation and ozone penetration. Extended and focused airflow is what you'll get from the deep pitch designed fan blades and spiral grille design. Couple all that air movement features with the industrial grade ozone generator and you have the ultimate ozone generator with the ability to spread the ozone in small, medium, and large space applications. You also get precise variable speed control and an include stand for 360-degree directional air flow.
Featuring an Always-On setting, a 3-hour Set-N-Forget timer, a separate on/off toggle switch for the ozone generator, and an ozone indicator light for safety. With the ability to turn the ozone generator off independently, you can utilize this unit as a standard air mover for cooling, ventilating, and drying purposes. Dual purpose air mover/ozone generator, this is truly unique to the market.
5000 mg/hour ozone generator
Powerful torque packed brushless DC motor
Option of Always-On setting or utilize the 3-hour Set-N-Forget timer
Independent power switch for ozone generator, plus ozone indicator light for safety
Precise variable speed control and 360-degree rotational stand
Wrap around cord management
Safely eliminate smoke, food, mildew and garbage odors and reduce air born particles such as dust and mold spores
Can assist in sterilizing mold, bacteria, viruses, and VOCs
Medical studies have shown ozone to break down and destroy viruses
Great for hotel suites, meeting rooms, restaurants, apartments, fire and flood restoration and more
We recommend you use this unit in an unoccupied place and ventilate the area before re-entry.  It can be harmful and dangerous if used while occupied with people, pets, and plants. Not for sale in California.