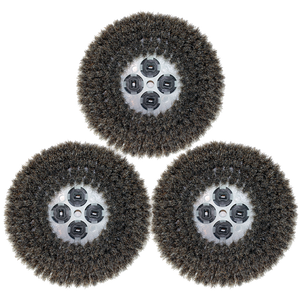 Natural Fiber Brushes
Cimex Natural Fiber Brushes - Pack of 3. This scrub brush is made of natural material, and is safe for use on all surfaces.  The brushes also will not produce a static charge. Use Natural Fiber Brushes with either the 15″ floor scrubber or the 19″ floor scrubber.

Sizing:
For 38 series 15″ machines choose 6″ brushes.
For 48 series 19″ machines use 8″ brushes.
For 61 series 24″ machines use 10″ brushes.
Won't produce a static charge