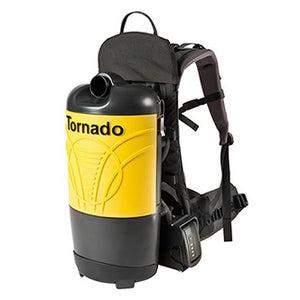 Pac-Vac 6 Roam
With the Tornado Pac-Vac 6 Roam, we are able to offer cleaning professionals something they have been looking for - a battery operated backpack vacuum with unrivaled comfort. No longer tied to a power cord, team members can clean larger spaces more quickly and efficiently than traditional back-pack vacuums. Standard backpack vacuums encounter heat buildup at the back of the operator, which can cause discomfort and decrease cleaning productivity. The specially designed and patented Aircomfort System from Deuter keeps a layer of air between the operator and machine on Tornado's Pac-Vac® Series.
Powered by Samsung® lithium battery technology (battery sold separately), the Pac-Vac 6 Roam:
Runs continuously for almost an hour on a single charge.
Provides a color-coded display indicating the battery status.
Batteries can be easily changed without taking the unit off of the operator's back.
Allows for opportunity charging.
A lightweight, rounded frame and mesh back that creates a layer of flowing air between the wearer and the pack for ultimate cooling.
Padded, contoured shoulder straps covered with wide air mesh, allowing the wearer's body to breathe.
Ergonomic and anatomically shaped stable hip fins and waist belt, proven to balance pack weight, setting the wearer free to roam comfortably.
The Pac-Vac 6 Roam comes with a
charger
, one disposable filter bag, wand, hose, and tools. 
The Pac-Vac 6 Roam battery is sold separately.