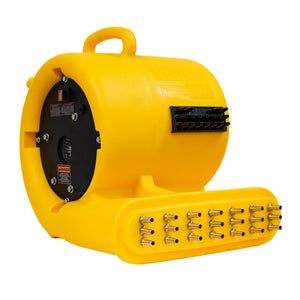 PDS-21 1-Speed Wall Cavity Dryer
Heat to 205°F! The performance proven VIKING PDS-21 1-Speed Wall Cavity Dryer is a revolutionary all-in-one containment wall cavity dryer that, for a decade, has carried the restoration industry's strongest return on investment. There is no air mover motor, no squirrel cage, and no attachments. The PDS-21 1-Speed Wall Cavity Dryer quickly delivers dry heated air that is perfect for drying under sinks, behind cabinets and permanent furniture. This portable unit features a lightweight, stackable design that includes a built-in cord wrap. The frustration free PDS-21 is easy-to-use on big and small jobs alike. It makes drying a breeze!
***PLEASE NOTE***
The XPOWER/VIKING Limited Warranty DOES NOT COVER the brushes on the Pressurized Wall Cavity Drying (PDS) line of equipment beyond the first use. Any motor issues beyond the first use will require the customer to return the unit(s) for inspection. The PDS-12/PDS-21 brushes and motors are wear and tear parts that will require replacing over time.
HEATED pressurized air flow for optimal wall cavity drying
Self-Healing/Auto restart thermal protection safety feature
On-Board Plug-Off system improves drying capability with increased pressure
Strong Return-On-Investment that drives revenues and pays for itself in a few jobs
Built-In cord wrap for easy storage without messy cords hanging
Easy grip handle for easy portability from storage to jobsite
2 100' rolls of tubing for increased drying coverage
Lightweight & stackable to maximize storage space