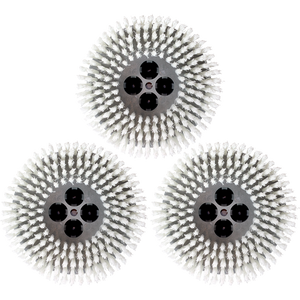 White Nylon Brushes
Cimex white nylon brushes - Pack of 3. These scrub brushes are safe for use on most surfaces. The white nylon brushes are available in both soft and stiff bristles. Soft bristles are gentle enough to use in encapsulation carpet cleaning. Stiff bristles offer more aggressive cleaning on hard floors with the 15" floor scrubber or the 19" floor scrubber.

Soft Brushes (carpet cleaning brush)
Works well with encapsulation carpet cleaning
This is the more common carpet cleaning brush used
Replaceable rubber grommets
Long wearing nylon filament
Stiff Brushes (heavy duty cleaning brush)
Can be used on direct glue commercial carpet only
Not suitable for residential high pile carpet containing a pad
It is a much more aggressive brush than the 4807 brush
Excellent for use on: ribbed entry mats, tile, and grout.
Sizing
For 38 series (15″ machines), choose 6″ brushes.
For 48 series (19″ machines), choose 8″ brushes.
For 61 series (24″ machines), choose 10″ brushes.
For 76 series (30″ machines), choose 12″ brushes.