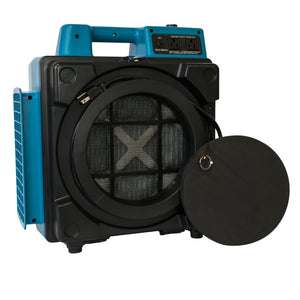 X-2480A 3-Stage HEPA Mini Air Scrubber
Small but mighty, the new XPOWER X-2480A 3-Stage HEPA Mini Air Scrubber achieves professional grade air purification in a super portable compact footprint. Featuring a powerful 1/2 HP external rotor induction motor, this 3 stage commercial purification system produces 550 CFM with less than a 3.0 amp draw. Developed to restore indoor air quality at a variety of job sites—the X-2480A with HEPA filter effectively removes contaminants such as bacteria, allergens, mold and sub-micron sized dust with its advanced 3 stage filtration technology. The 1st stage washable and reusable nylon mesh filter extends the life of the primary filters. The 2nd stage pleated media filter removes additional impurities, and the true HEPA filter captures 0.3 sized and larger microns at a 99.97% rate. A convenient indicator light notifies you when filters need cleaning or replacement.
Additional features include: a five speed control switch, built-in daisy chainable power outlet, and fitted foam cap to contain contaminants. A lipped air outlet can be easily ducted to channel purified air or create negative air pressure. Stackable and lightweight for easy transport, the rugged X-2480A is ideal for even the toughest water damage restoration and construction jobs.
XPOWER's complete line of products bring you only the best precision engineered technology for optimum performance and years of service