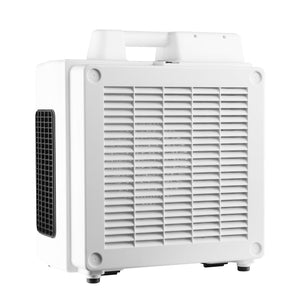 X-3780 Commercial Air Purifier
The XPOWER X-3780 is a 5-speed commercial air purifier suitable for a variety of applications, to include: businesses, medical facilities, hospitals, waiting rooms, hotel lobbies, and other spaces where optimal indoor air quality is crucial. This scrubber quickly captures airborne contaminants such as bacteria, allergens, mold and other submicron sized impurities utilizing its advanced 4 stage filtration technology and powerful high torque motor. The X-3780 Commercial Air Purifier is equipped with an activated carbon filter that removes odors and captures submicron particulates with its HEPA Filter.
The first stage of filtration is a washable Nylon Mesh Filter (NFS16) that traps larger matter and prolongs the life of the subsequent filters. The second stage of filtration is a high capacity Pleated Media Filter (PF16) that traps smaller particulates and aides in preventing cross contamination. The third stage of filtration is a two pound Activated Carbon Filter (CF35) which neutralizes stubborn odors and absorbs harmful VOCs (Volatile Organic Compounds). The final stage of filtration is a 2" thick HEPA Filter (HEPA50) that captures particulate matter as small as 0.3 microns with 99.97% Efficiency. An integrated indicator light illuminates when these filters need to be replaced.