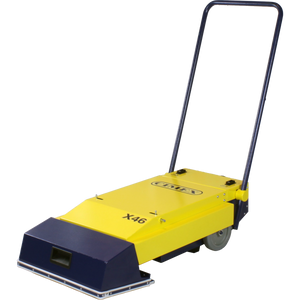 X-46 Escalator Cleaner
The Cimex Escalator Cleaner provides a simple solution to the problem of dirty escalators by quickly and efficiently cleaning the treads. The Escalator Cleaner can utilize two different brush sets: The Tynex Brush for aggressive sweeping or the Nylon Brush for routine maintenance.
Thorough cleaning of the treads is achieved by dual powered 290 RPM twin brushes which loosen dirt and grit. The grimy residue is then instantly removed by the Escalator Cleaner's dual vacuum motors, leaving the escalator working at peak performance and keeping surfaces clean and sanitary.
A well maintained escalator or moving walkway helps to not only to improve overall appearance but reduce service costs as well. The quick-change disposable bag system is fast and easy, providing an eco-friendly disposal option.
Product comes with a standard 1 year warranty.
Quick and easy brush replacement

Auto height adjustment for optimal performance

Quick-change disposable bag system

Portable design for easy set up

Simple to use and maintain

High powered brushes ensure a deep clean

Multiple brush choices for different scenarios