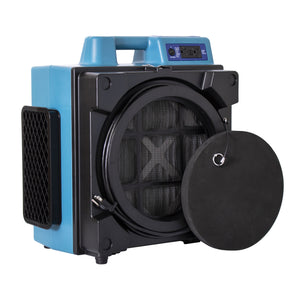 X-4700A HEPA Air Scrubber
The XPOWER X-4700A 3-Stage HEPA Air Scrubber is a commercial purification system featuring a powerful external rotor induction motor that produces a maximum 750 CFM while drawing 4.5 Amps. Designed to restore indoor air quality at a variety of job sites, the X-4700A will effectively remove airborne contaminants utilizing its 3 stage filtration technology. Stage 1 – Nylon Mesh Filter is washable and will help to extend the life of the 2 subsequent filters. Stage 2 – Pleated Media Filter will assist in removing additional impurities. Stage 3 – 2" HEPA Filter will capture contaminants as small as 0.3 microns at an effective 99.97% rate. Each X-4700A includes an indicator light that illuminates when the HEPA filter needs replacing.
The X-4700A 3-Stage HEPA Air Scrubber features a variable speed control switch and can be daisy chained with 2 built-in GFCI power outlets. Stackable and lightweight for easy storage and transportation, the attached fitted foam cap will prevent contamination between jobsites and storage. The compact and lightweight design is ideal for water damage restoration, mold remediation, and a variety of construction applications. An optional Activated Carbon Filter is available in remediating smoke damage caused by fire, neutralizing pet odors, and other noxious gases.
3-stage filtration system: includes a 2" thick HEPA filter and the option of adding an activated carbon filter
Built-in GFCI power outlets for daisy chain with dual thermal protection
Powerful and energy efficient external rotor induction motor
Low 4.5 Amp draw with 750 CFM maximum airflow capacity
Variable speed control switch and filter change light indicator
Convenience Grab-N-Go handle and wrap-around power cord design
Stackable up to 5 units high for easy storage and transportation
Manufacturer's 1 year limited warranty
ETL/CETL safety certified