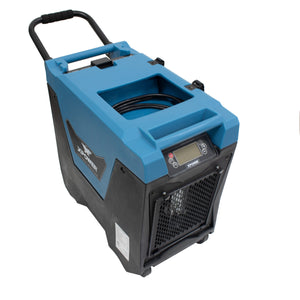 XD-85L2 Commercial LGR Dehumidifier
The XPOWER XD-85L2 Commercial LGR Dehumidifier is the updated version of the XD-85LH in that it now has an integrated storage compartment on the top of the housing for the power cord and drain hose, therefore eliminating the need for Velcro straps and saving precious space in your work vehicle. The XD-85L2 LGR Dehumidifier achieves maximum humidity control and water removal efficiency. The ultra-compact design is capable of removing up to 85 Pints Per Day @ AHAM (80°F, 60% RH). The XD-85L2 Commercial LGR Dehumidifier features a patented "Dual Intake" which can be closed in temperatures below 68°F to optimize the dehumidification process by reducing the stress level on the compressor. Designed to maximize storage space, the compact XD-85L2 stacks nested up to 3 units high and features 2 molded handle grip points on the top of the unit. BONUS – The XD-85L2 includes a convenient and fully assembled fold-down handle and wheels for easy transport and storage.
The XD-85L2 LGR Dehumidifier has an electronic display that assists in monitoring the temperature and humidity at the exhaust, as well as recording the total operating life of the dehumidifier. Lay flat ducting can applied to the exhaust point of the dehumidifier with the ducting ring that is included on the unit to transport warm/dry air to where it is needed. It is easily done by hand without any additional tools. The XD-85L2 LGR Dehumidifier also features an auto purge condensate pump, superior compared to industry competitors, that is capable of purging collected moisture through the provided 40′ drainage hose (10'-12' vertically and 28'-30' horizontally). Weighing 70.5 LBS, the easily transportable XD-85L2 gives you the ultimate LGR performance in a size that fits in crawl spaces and other tight areas. Roto-molded Polyethylene Plastic provides a durable housing that is capable of enduring the most rugged restoration jobsites.
The ready to use XD-85L2 LGR Dehumidifier includes a fully assembled Fold-Down handle with wheels to simplify the transportability of this lightweight dehumidifier
Auto purge pump with drainage hose automatically purges when full: eliminating the task of monitoring collection tank levels
Automatic speed control increases or decreases the fan speed based on the relative humidity and ambient temperature levels in the space requiring dehumidification
Water removal capacity: 85 pints/day at AHAM (80°F, 60% RH); 145 Pints/Day at Saturation (90°F, 90% RH)
LGR performance with operating range between 33°F – 105°F (0.6°C – 40.6°C)
Optimal dehumidification process with low efficient 6.7 Amps draw
180 CFM of warm, dry air passes through the exhaust to help optimize drying capability
Dual intake technology and digital display monitors current humidity and operating time
Durable and rugged roto-mold housing that features a nested stacking design
25 ft. power cord and 40 ft. long drain hose
ETL/CETL safety certified and meets OSHA safety requirements