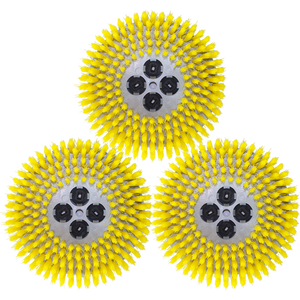 Yellow Polypropylene Brushes
Cimex yellow polypropylene brushes - Pack of 3. These heavy duty and long lasting brushes are safe for scrubbing on hard flooring surfaces. The yellow polypropylene brushes are great for economical scrubbing with the 15" floor scrubber or the 19" floor scrubber.
This scrub brush is safe for use on most hard floor surfaces.
NOT suitable for use on carpet surfaces.
It's great for economical general scrubbing.
Works best on grouted tile floors.
Sizing
For 38 series 15″ machines choose 6″ brushes.
For 48 series 19″ machines choose 8″ brushes.
For 61 series 24″ machines choose 10″ brushes.